John Cena will attempt to reclaim the WWE title in a championship for championship match at Summerslam on Sunday to leave his name in the history books as one of the most popular stars in WWE history. John Cena is the current United States Champion and his versatile personality has landed him two lead roles in movies too. So, here are some other amazing facts about the WWE superstar which prove that he is a superhuman.
1. John Cena Has Won 12 WWE Heavyweight Championship  Titles
John Cena has held the WWE World Heavyweight Championship a record number of 12 times.
2. He Is A Rapper And His Rap Album Reached #15 On US Billboard Charts
John Cena produced a rap album 9 years-ago and sold over 143,000 copies within the first week. His album debuted on the U.S billboard charts at no. 15.
3. He Was The WWE Ironman Of 2006 With 182 Matches
In 2006 when he joined WWE John Cena racked up a marathon 182 matches including a win over Triple H to win the Ironman title.
4. John Cena Was A Division 3 All-American Football Centre Player
His physique did not come out this way naturally; he had to work for it in college. John Cena was a centre player in division III all-American football in college.
5. Cena Originally Started Out As A Bodybuilder
Cena had been on the cover of Muscle and Fitness several times as he started out as a career bodybuilder.
6. He Was A Professional Wrestler Before Joining WWE
John Cena was an ultimate Pro Wrestler for two years and his in-ring name was 'The Prototype'. John Cena also won the company's heavyweight title in April 2000.
7. John Cena Has Lasted More Than 'The Hulk', 'The Rock' And Even 'Stone Cold'
He has been in the business for 16 years and has an impressive number of titles. He is the highest earner for the company and WWE pays him $3 Million a year for the fights.
8. John Cena Loves To Collect Muscle Cars
1971 Ford Torino GT, 1970 Mercury Cougar Eliminator, 1970 Pontiac GTO Judge, 1966 Dodge Charger and a 1970 Plymouth Superbird are only some of the cars in his unique collection.
9. He Has Won Wrestler Of The Year Award Twice And Star Match Award Five Times
He won the wrestler of the year award in 2007 and 2010 which helped him establish his credibility in the wrestling arena and the rarity of Start match awards makes his achievement even more praiseworthy.
10. Cena Has Granted Over 400 Wishes Through The Make-A-Wish Foundation
For his humanitarian efforts John Cena also received the Chris Greicius Celebrity Award in 2010.
11. He Is Steadily Following Dwayne 'The Rock Johnson' Into Hollywood
In 2015, John Cena will star in three Hollywood movies making him the next big export from WWE to LA
12. The Orton Obsession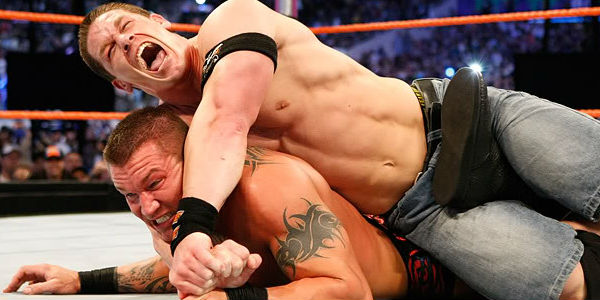 Randy Orton is John Cena's most common opponent. Cena has faced The Viper 259 times, with a record of 213 won, 34 lost, and 12 draws, as of April 2015. This involves all dark shows, tv shows, and pay per views.
Their matches are usually of a decent standard. Some have even been very good. But fans are absolutely fed up with seeing Cena vs Orton, with it feeling like one of the most overdone feuds in company history. When they clashed last year at Royal Rumble 2014, it was greeted with loud jeers for both men.
13. The AA Is Actually A F*** Y** Version Of The F5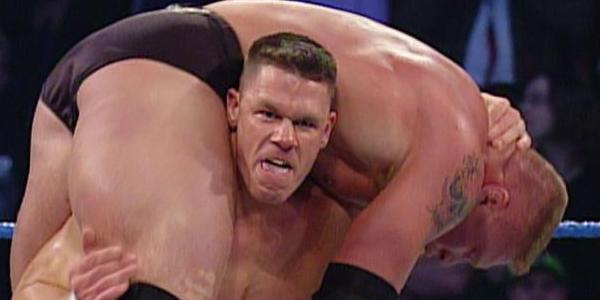 The AA, or Attitude Adjustment, is John Cena's trademark finishing move. But it actually started life out as the FU, which stood of course for the F*** Y**.
The move was originated as a contrast to Brock Lesnar's F5. Lesnar was the big thing in WWE at the start of 2003, whereas Cena was the unproven lower card worker. WWE decided to match Brock vs Cena at Backlash 2003 for the title, hence why Cena came up with the FU name and similar finishing move to the F5.
When WWE then decided to make Cena more of a kid friendly character, they did away with the FU name and called it the AA. Literally, an attitude adjustment for the company.
14. Top Earner
As the head of the WWE brand, John Cena is the company top earner. That's fair enough, as there's proof to show that he's the biggest reason fans watch wrestling. Show tickets sell better with him on the card. Merchandise with his likeness outsells all other wrestlers. Tv ratings improve with his presence. Pay per view buys go up, as proved by WrestleMania 28 when he set the PPV gross record.
WWE pays Cena $3 million a year, with bonuses for merchandise on top. He also gets first class travel and accommodation, which was traditionally only reserved for the WWE Champion.
15. Physical Freak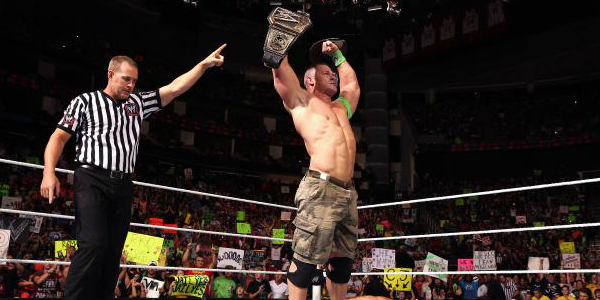 John Cena is 6 foot 1 and 251 pounds. Physically, he's built like a machine, with a sculpted upper body that boasts amazing size. Some fans have actually doubted that a body like that is possible without the aid of steroids, but Cena has always denied those allegations.
He points to the fact that his body has been the same throughout his run, even after WWE brought in their drug testing policy in 2007. That's true. He has maintained amazing consistency with his physical condition.
The truth is that he's just a physical freak of nature. He's genetically capable of a body that most people can only dream of.